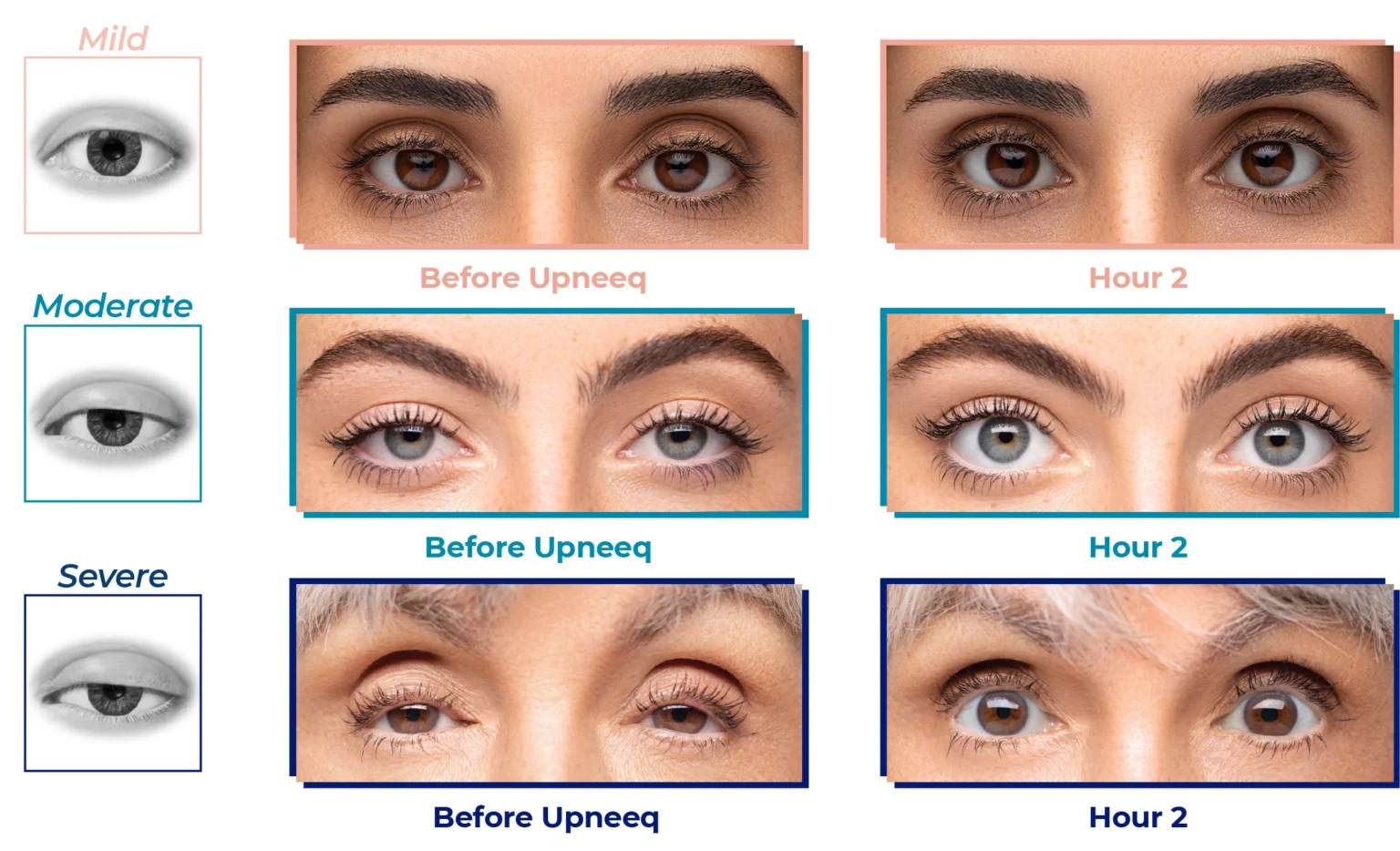 UPNEEQ is a unique way of lifting the upper eyelids to open the eyes. It is the only prescription eyedrops approved by the FDA to treat acquired ptosis or low-lying upper eyelids. But how long before you see the results of UPNEEQ?
Keep reading to find out the specifics of this special treatment.
UPNEEQ – The Only FDA-Approved Eyedrop for Low-Lying Eyelids
You might have acquired blepharoptosis if your eyes appear "tired" or "sleepy" – also known as acquired ptosis or low-lying lids. Adults with acquired blepharoptosis can be treated with the prescription eyedrop UPNEEQ (oxymetazoline hydrochloride ophthalmic solution).
What is Blepharoptosis?
Ptosis or acquired blepharoptosis is a typical medical condition that:
It may manifest later in life.

Affects adults of all ages but gets worse as people get older.

Usually happens when the eyelid muscles weaken and stretch, causing the upper eyelid to droop.

Additional problems may bring it on, such as contact lens use, cataract surgery, or an underlying medical condition. 
Blepharoptosis can indicate a more serious medical condition. It may be a symptom of diseases including Horner syndrome, myasthenia gravis, loss of the capacity to move the eye muscles, eye infection, and ocular tumors, as well as situations like stroke and brain aneurysm.
Blepharoptosis can interfere with your vision. It can affect daily activities such as reading, driving, or computer use.
How Does UPNEEQ Work?
UPNEEQ eye drops include 0.1% oxymetazoline hydrochloride ophthalmic solution as their active component. The oxymetazoline in Upneeq will cause the muscle in the upper eyelid to contract or tighten. Oxymetazoline is what widens the eyes and has a mild lifting effect.
The active ingredient in UPNEEQ will not damage your eyes. Oxymetazoline is widely used in other medications, such as nasal decongestant sprays.
How Long Before Results Manifest?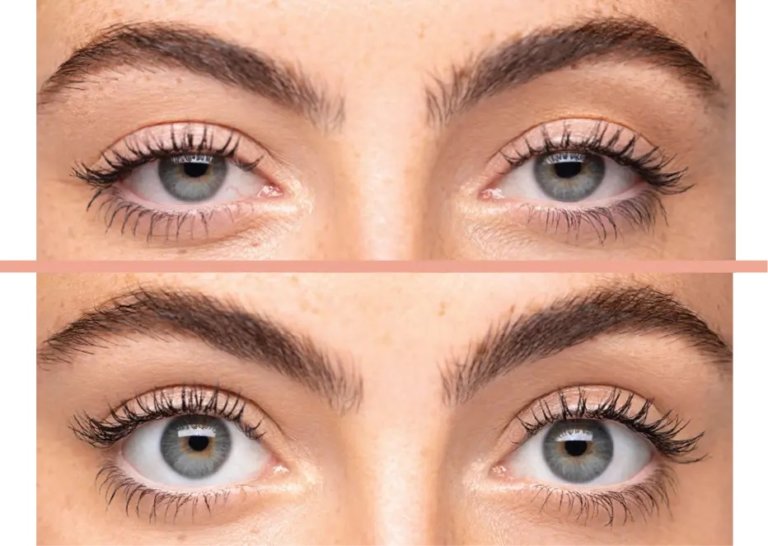 Typically, 15 minutes after application, visible improvements are seen thanks to UPNEEQ. Results from UPNEEQ are only temporary and may last for up to 8 hours. These results are not cumulative – meaning the more you use UPNEEQ, the longer the effects last.
Although the results won't be as dramatic as those from eyelid lift surgery, patients often experience a slight lift of about 1 mm in their upper eyelid after the first application—just enough to be apparent.
UPNEEQ is, in many ways, a better option than blepharoplasty, the surgical procedure that treats ptosis by removing excess skin from the eyelids. It is more affordable and convenient. This groundbreaking non-surgical treatment for eyelid ptosis offers cosmetic surgeons a new option that will benefit many patients, including those who are not yet ready for eyelid surgery or who have low-lying eyelids due to neurotoxin injections.
Is UPNEEQ Safe?
For the safe and efficient treatment of acquired eyelid ptosis in adults, UPNEEQ has received FDA approval. To earn FDA approval, UPNEEQ demonstrated efficacy in two 6-week trials that monitored 304 individuals with acquired blepharoptosis.
However, like many medications, UPNEEQ comes with safety precautions.
UPNEEQ Safety Precautions
Your blood pressure may go up or down when using UPNEEQ. If you have heart disease, uncontrolled high or low blood pressure, or dizziness while lying down or after getting up quickly, and your symptoms worsen after taking UPNEEQ, you should see a doctor.
Patients should exercise caution when taking UPNEEQ if they have restricted blood flow to the brain or heart or Sjögren's syndrome, an immune system ailment that causes eye or mouth dryness. If your symptoms appear to be getting worse, call your doctor right away.
In patients with untreated narrow-angle glaucoma, UPNEEQ may raise the risk of eye pressure brought on by fluid buildup (angle-closure glaucoma). If, after using UPNEEQ, you have increased ocular pressure, call your doctor immediately.
Do not let the UPNEEQ vial's tip come in contact with your eye or any other surface. Doing so may lessen the risk of contamination or eye harm. Each UPNEEQ vial is designed for single use only and should be thrown away after use.
Adhering to these tips will ensure your safety when taking UPNEEQ. It is always best to work with and be transparent with medical professionals.
UPNEEQ Side Effects
Eye inflammation, redness, dry eye, blurred vision, eye pain at the time of usage, eye irritation, and headache were the most frequent adverse responses with UPNEEQ (occurring in 1-5% of patients). These side effects are sporadic but may be causes for concern. These may not be all the side effects of UPNEEQ; contact medical personnel if you experience side effects not listed here.
Immediately let your healthcare provider know of these side effects should you encounter them.
How to Ensure Safety with UPNEEQ
The doctor should consider your entire medical history before prescribing UPNEEQ. As mentioned above, being transparent when working with a doctor is paramount.
Use UPNEEQ with Caution If Taking Medications
UPNEEQ is a member of a group of drugs called alpha-adrenergic agonists that may have an impact on your blood pressure. If you currently take an alpha-adrenergic agonist drug to treat heart disease or an enlarged prostate, use UPNEEQ with caution. Patients should exercise caution when using UPNEEQ if they are utilizing beta-blockers or other medications to treat hypertension or an irregular heartbeat.
Patients on monoamine oxidase inhibitors, a particular family of antidepressants, should exercise caution when taking UPNEEQ since it may alter how your body absorbs the medication.
Use UPNEEQ Strictly as Prescribed
UPNEEQ must only be used once daily in the recommended dose. Determine how long you should use UPNEEQ in consultation with your doctor and abide by their advice.
Are You a Suitable Candidate?
You might be a suitable candidate for UPNEEQ if you have mild, moderate, or severe eyelid ptosis and you don't take any medications that will interact with UPNEEQ. To find out if you are a good candidate, be honest with your board-certified aesthetician about your prescription drugs, dietary supplements, and medical history.
Work with Aion Aesthetics for All Your Aesthetic Needs
Aion Aesthetics offers complimentary 15-minute virtual consultation to help you address your aesthetic concerns. To talk about UPNEEQ or other procedures, contact Aion Aesthetics at (917) 436-9654 or email info@aionnyc.com.